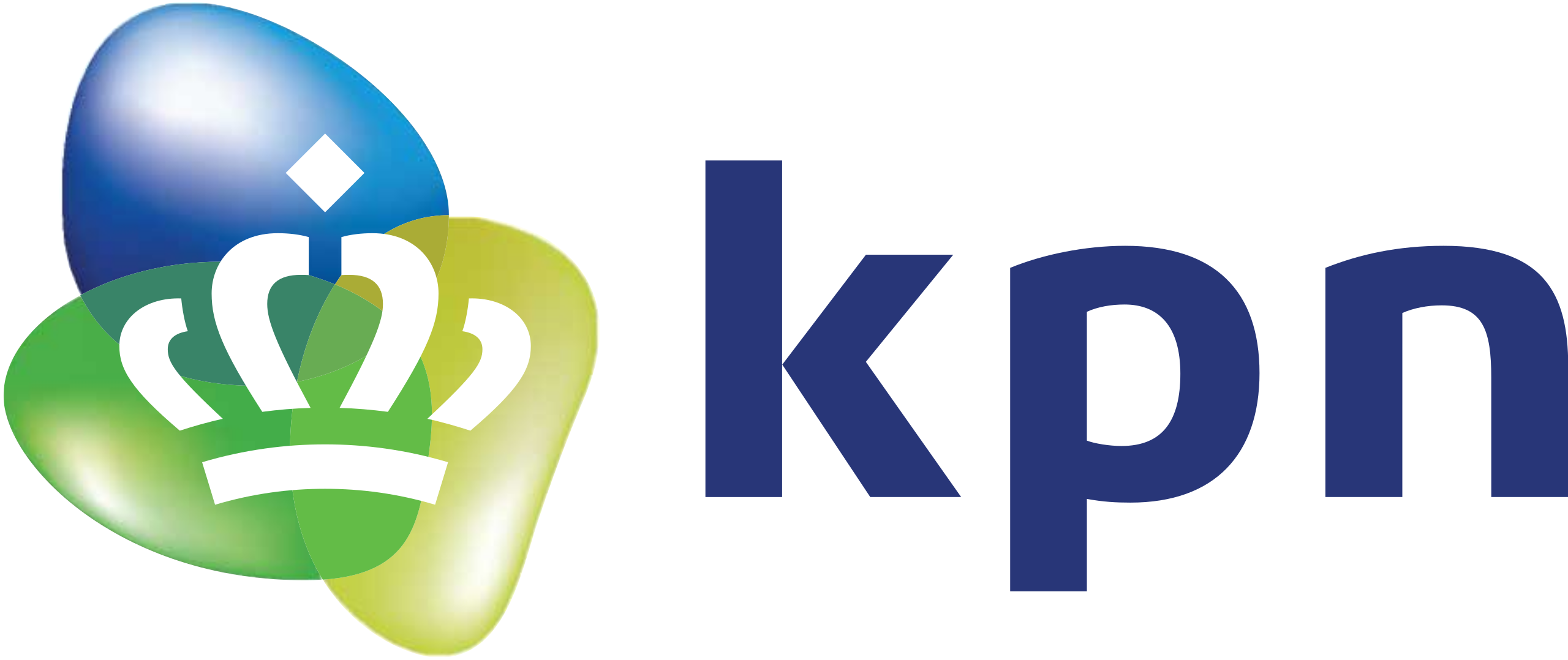 Data Engineer
Do you strive to make impact with data, algorithms and supporting tools using state of the art technology? Optimizing directly the customer experience by preventing network incidents or impacting the KPN performance by optimizing energy consumption and fiber roll-out?
KPN invests 100s of millions each year in their networks, energy consumption and the prevention of customer incidents. Our team is already responsible for several optimizations, models and solutions with already the value of >100 million and more to come. To professionalize even more, we are looking for someone with software engineering skills who can bring us to the next level. From building models and algorithms to delivering top notch software, making impact in the business.
At KPN we have embraced a new, hybrid way of working, leveraging the best of both worlds. You come in for in-depth discussions and face-to-face meetings with your colleagues at the KPN Amersfoort or Amsterdam office, overlooking the Amersfoort and Sloterdijk train station. For other activities you can opt to work from home or any other place that suits you best.
You will work in the young, enthusiastic Networks Analytics team within the Advanced Analytics community of 45+ highly skilled and energetic colleagues In close cooperation with business stakeholders, domain experts, data engineers, software engineers, mathematicians and data scientists you help make KPN truly data driven.
You will come to work for the largest network company in the Netherlands. There you will enable large-scale analytical use cases that make direct impact to the experiences of our multi-million customer base and the company performance; from building tools and patterns to enable energy consumption saving, optimizing routes through the network, to applying algorithms to prevent network incidents.
Bringing ideas to production. Develop and maintain production ready solutions to enable analytical models to create insights from large volumes of (real-time) data in a scalable and structured way • Develop, operate and integrate analytical capabilities into business processes, IT- and data platforms • Ensuring scalability, reliability and robustness of data pipelines and solutions • Automate processes to reduce costs and time • implement tests and pipelines to ensure high availability • implement new tools and solutions to facilitate the business • Collaborate with your team and business stakeholders to create the highest impact for our customers with data and analytics.
Master's degree with strong analytical component, like Computer Science , Econometrics, Mathematics, e.g. • Experience with developing solutions/tools to implement algorithms into production that create business value • • Take ownership and responsibility • Strong intrinsic motivation to learn new skills and concepts, among others willing to understand and learn the complexity of the network • Ability to cooperate with your team and business stakeholders • Able to explain technical details, to business stakeholders and team • Proven experience with Python, SQL, (Py)Spark, CI/CD tools, code testing and maintainability, REST API's • Preferably experience: AWS, Azure, Dataiku DSS, ETL tooling , skills in telecommunications • Fluent in English, preferably understand or speak Dutch.
A 37-hourworking week A gross monthly salary between €4.136 – €5.924 (dependent on experience level) A mobile phone and laptop A supplement of 10.5% of your gross monthly salary (incl. holiday allowance) 50% discount on KPN products and services A travel allowance for commuting Excellent pension conditions Good career and training opportunities and a personal training budget of € 1,500, -, In fact, we expect you to continue to develop!
Advanced Analytics a centralized data science expertise centre within KPN. The Network Analytics team is responsible for several mathematical optimization tools and solutions, providing insights in energy consumption and implement algorithms to prevent customer impact by network outages. We rise and thrive by trusting our colleagues, provide room for your creativity and also make sure that you have the right tools in place to perform your job well. We believe that the best way to work is to do interesting things in an enjoyable team. Expect a lot of room for fun, learning and experimenting with new technologies to extract value from on the one of the most versatile and rich data-sets available in the Netherlands.
Type of Company

Inhouse

Function

Data Engineer

Expertise

0 years

Language

Dutch and English Language Required

City

Amersfoort

Province

Utrecht